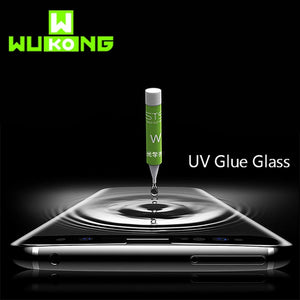 Samsung Galaxy S10 Plus UV Screen Protector
Use: Mobile Phone
Model Number: For Samsung S10 / S10Plus
Compatible Samsung Model:  S10Plus S10
Features: Easy to Install,Scratch Proof,Ultra-thin
Brand Name: Redpepper Cases
Compatible Phone Brand: Samsung
With Retail Package: Yes
Type: Full Body Film
Package: Yes
Edge-to-edge Coverage: Yes
Material: Hydrogel Film
Features: Easy to install
Quality : Full Glue Glass
Color: Transparent
Performance: Anti scratch;Anti-fingerprint;Flexible touch
Package : Strong and safe
Hardness: 9h hardness protection
Model 11: UV Full glue cover film for Samsung Galaxy S10
Model 13: UV Full glue cover film for Samsung Galaxy S10 Plus


Specification:
  100% Brand New and High Quality!
Perfect Match: 3D Full Glass with curved edge design.
Support In-Screen Fingerprint Scanner: Specially designed for Samsung Galaxy S10/S10+.
HD Protection: 9H (0.2mm)harness tempered glass, much stronger than normal PET plastic screen protector, can effectively protect your device against dirt,dust,scuffs and scratches.
High Transparency: 99.99% HD Clarity and light transmittance provides a clean and clear screen environment and keeps your screen always looks brand new.
Waterproof and Oil-Proof: Keeps your screen free of fingerprints and oily smudges and is easy to clean.
Oleophobic Coating: The protector has an oleophobic coating that prevents fingerprints and other contaminants.

Easy installation: The unique screen protector install solution with adhesives and UV light dryer makes installation easy and convenient.
Compatible with:
For Samsung Galaxy S10 (6.1″)
For Samsung Galaxy S10+/S10 Plus (6.4″)
(1Pack) Package Includes:
1X Tempered Glass Screen Protector
1X Wet wipes
1X Dry cloth
1X Dust paper
1X Adhesives
1X UV light dryer
Step 1 : Clean the screen with the wet wipe and cloth and removing any case from you phone
Step 2 : Stick the key hole with a label,and then use a knife or scissor open the liquid adhesive box,drop it on the screen(It is recommended that the glue be poured completely.The glue that drops on the screen can't have air bubbles, if there is air bubble, use the needle to pierce the air bubble to let go air. )
Step 3 : Peel off the mask film from the glass,then place the screen protector to a suitable position on your device SLOWLY. PLEASE DO NOT LIFT AND PRESS THE GLASS TO LET THE ADHESIVE SPREAD,JUST LET IT AUTOMATIC DISPERSION.(Very important)
Step 4 : Wait for about half a minute to let the adhesive spread and level.
Step 5 : If the adhesive overflow, wipe off with a clean cloth. After checking the retention criteria for the mobile phone's tempered film, the lamp was turned back and forth several times around the edge of the phone, and after 3 seconds of initial curing (not in the middle), the edge glue was wiped again until the glue overflowed. (Prevent white edges or long bubbles on edges)
Step 6 : Wait for the exhaust to complete, after the glue overflows cleanly, after the positioning standard of the tempered film is satisfied, turn on the light. Otherwise scrapped material.
Step 7 : Irradiate the mobile phone under UV lamp and need to illuminate twice for about 3 minutes to reach the fully-cured position.
Step 8 : Clear the screen,and turn off the UV lamp for reuse.
2. Detail Pictures for Samsung Galaxy S10 Plus UV Screen Protector